From the desk of Al Farnell: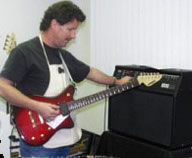 In 1984 I moved to Laughlin Nevada, and a year later in 1985 I awoke to remember a dream that I had a super light guitar that was made of Styrofoam. The next day I attempted to build one. After completing one with a conventional wood neck, the body snapped in half (oops) but that wasn't too hard to figure out why. So next phase I ran two quarter inch dowel rods down the center of the body, that helped but after a day it looked like a potato chip. Next phase, I made the insert a solid wood piece about four inches wide and stopped at the bridge, along with this change I also changed the foam to "Ethafoam" which is what a boogie board is made of. Just by chance I had an old one in my garage and after cutting it in half, I noticed it contained what looked like small air pockets unlike Styrofoam which is solid and dense. I came to learn this is called "closed cell foam" and I think that was my breakthrough in guitar building technology. Why does it work? The cells expand when vibrations are applied then decompress over and over, kind of like the way an ear drum works. Next phase was to fabricate the guitar in a shell like casing, so my first choice was Sintra, Sintra is a flat sheet of PVC. So the first born Ultra-Lite guitar and bass was made of PVC, wood and Etha-foam. After six years, of a lot of money spent for patents and R&D, ect… I moved back to California in 1990 and started working for a boat manufacturer. After working there for about a month I saw how they built boats from molds so I said why not take my favorite wooden strat and fill all the cavities with "bondo" and make a mold from it. I did and two months later I had a two piece body that was seamed together along with the wood insert and injected with packing foam, the Ultra-Lite was back in action sounding better than ever and lighter than ever. After struggling for the next nine years with trade shows and adding more patents the money was tight. So sometimes I would have to put development on hold until more funding caught up. While working on a music video as the motor coach driver for a very well known band, my boss, who was driving the production coach, saw the guitar player of this band pick up one of my guitars and play it almost every extra minute he had in the two days we were with them. So he asked, why is this guitar player so intrigued with your guitar? I told him all about it, long story short…we were incorporated two weeks later and had an investor.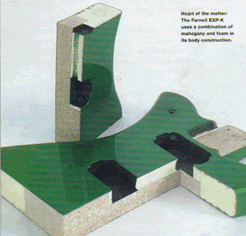 After doing more R&D with the available funds I needed, I took the surfboard theory and applied it to my bodies. Now the insert goes all the way through the body, end to end and I use a ten-pound high density, closed cell polyurethane foam. About in the middle of the insert I remove the wood one-inch deep and replace it with the foam where the pick-up cavities are, this area is called our patented "sound reservoir". Now when the pick-up cavities are routed, the pick-ups set in the body surrounded by the exposed open cells. "Thunderous", is the only term I can think of to describe the tones and percussive sound that these guitars and basses provide. Some of my past sales reps describe the ultra-lite as a "Les Paul on steroids" without the weight.